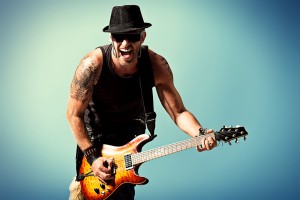 When you think quilts, your mind probably turns to little old ladies in their craft rooms at home, stitching pink, yellow and blue squares together in front of the fire. What you probably don't think of immediately is a hot-blooded American male sewing up old heavy metal T-shirts to make gigantic bedspreads.
But that's exactly what Ben Venom does for a living, exhibiting his extreme quilts (which are absolutely massive, typically rather too large for a double bed) around the world. He's been everywhere, from Denmark and Ireland to Germany and all over the US, and will definitely inspire you to get quilting this year!
The imagery of his quilts is a little dark so not for the faint of heart (think the occult, vintage tattoos and motorcycle gang motifs), but they're put together in such a beautiful way that they have serious mass appeal. Ben Venom's work may be more suited to hanging in a gallery rather than covering your bed at home, but his quilts could be just the inspiration you're looking for to invest in something similar yourself… or even get the sewing machine out to have a go at quilting as well!
As crafts go, quilting probably isn't the easiest one to try and pick up if you've never made anything yourself, so buying one for your bed is likely to be the better option if you can't go another day without having a brand new bedspread. Just have a little look around to see if there are any designers whose style you particularly like – you'll definitely be able to find a quilt that suits your bedroom décor.
Do you want to see heavy metal quilts in our online store? If yes, please let us know. Until then, have a little look at the similar items we have got and maybe buy tapestries for your home.