Bird Houses – Handcrafted in Bali, Indonesia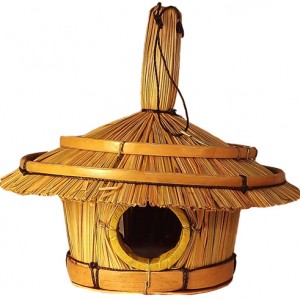 Bird houses make absolutely fantastic gifts to somebody, whether it's a garden ornament or just something to help complete a look they have at home.
Your Crafts Fair has a stunning collection of custom crafted bird houses from Indonesia that you can use to decorate the house and give your little friends somewhere to stay, as well. We pay close attention to the details of the houses to make sure that the bird feels as comfortable as possible when it makes claim to its new home.
If you are looking to pick up a stunning, personalised gift for somebody then our bird houses can be the perfect solution. Just take a look at the selection to below to find many unique variations. You could invite birds into your garden by providing special areas to nest. A bird house is an excellent substitute for a tree hole and several species would use it. Which one you entice will depend upon the place, the type of  bird house and the size of the doorway opening.
Try to attach bird house facing north and east, to stay clear of direct sunshine and the wet winds.  Put it in a place where it's quiet and out of  reach of pet cats, typically between 2 and 5 metres up a tree or fence or even wall surface. Tilt the bird house ahead slightly to make sure that rain falls on the roof and does not go into the box. Put different types of bird houses  in various places around the yard. For example, put open-fronted bird houses low and hide them well in plants to attract robins and possibly wrens.
Sign up for Newsletter and get 20% OFF next purchase