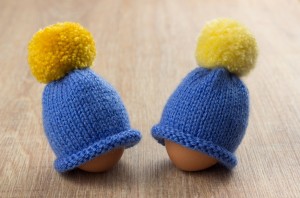 You don't have to have any particularly crafty skills to join in with the latest trend taking the handmade world by storm – all you need is a ball of wool, a bit of cardboard and some time on your hands and you can take part in #worldpomination, a project set up by Kirstie Allsopp as part of The Handmade Fair to break the Guinness World Record for the longest line of pompoms ever.
All you have to do is make three or more of these fluffy little treasures, tie them together and fix your name on them somewhere, then take them into your nearest Hobbycraft shop or bring them along with you to the fair, which is taking place between September 19th and 21st.
If you've never made a pompom before, first of all – why ever not? They're so much fun to do and are really easy. You can make them any size at all depending on how big your cardboard circles are and you can even make teeny-tiny ones by wrapping a bit of yarn around the tines of a fork. Check out this video tutorial showing you how to do just that if you're not sure where to start.
We'd love to see what you come up with for #worldpomination, so send us your photos over on Facebook or Twitter. You'll also be doing your bit to raise money for an excellent cause and can donate £3 to official Handmade Fair charity Sense, which helps support children and adults who are deafblind, as well as making your pompoms. Just text POMPOM to 70111 to donate.
While we may not be stocking many pompoms right now, if you like the cute little pompom hats in the picture, check out our website and maybe buy hats for your friends.