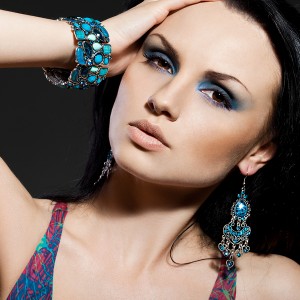 There is not a single woman on earth who does not love and desire gemstones. The connection between women and gems is something that is rooted deep down in generations. The vivid colour range and unique pattern of each gemstone are the reasons why gemstone jewellery are loved by all women over jewellery made of other material.  If you were to impress a woman ever, gemstone jewellery would do the trick. The semi precious stones used in our collection is beautifully cut and polished flawlessly to add more beauty to your feminine figure.
Our stunning range of jewellery is always crafted by the well-experienced artisans in the field. Each piece is handmade and accurate to the detail. Jasper, Pearl, Onyx, Mother Of Pearl, Agate White, Carnelian, Chrysoprase, Obsidian, Olivine, Hematite, Tiger Eye and Serpentine semi precious gemstones are been blended together to produce striking necklaces and bracelets. Different shapes and colours make it possible for you to pick jewellery for any occasion from our classy array. Hesitation might lead to disappointment. Purchase your jewellery
Gemstone Necklaces
The necklace collection in the store is a modern and traditional fusion. The more classical necklaces with single or dual strings of perfect circular shapes of Pearls, Agate White, Carnelian, Chrysoprase stones are loved by the middle aged, older women and the ladies seeking for classy necklaces for formal occasions. The contemporary styles include off-cut Serpentine, Jasper, Obsidian and Olivine gemstones mixed together or featured separately to cater the younger women and women who need something unique to go with an evening dress. No matter what you choose, our handmade glamorous necklaces will put you in the limelight wherever you go.
Gemstone Bracelets
Girls who love to add a funky look to their clothing and the ladies looking for a magnificent piece of statement jewellery all are invited to shop at Your Craft Fair gemstone jewellery collection, to select the bracelet that suites you the most. A range of vibrant bracelets made out of Hematite and pastel colour beads are available in the store for the funky lovers. For the more matured ladies with an eye for more elegant jewellery, the range of Pearl, Obsidian, and Chrysoprase bracelets are available in our collection.
Gemstone Jewellery Sets
For the ladies who prefer to have their jewellery as a set, a limited number of jewellery sets are available. Pick yours before someone else does!