From: design.artshub.com.au
Jewellery-making has variously been described as adornment, ornamentation or maker's craft. Traditionally jewellery has typically been considered more for its economic value rather than aesthetic consideration.
Contemporary jewellery, however, has been making great strides from artisan's market to art gallery space.
It has been exhibited within the gallery context in Europe since the 1970s.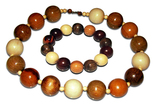 There are a number of galleries worldwide dedicated exclusively to exhibiting it, which is highly collected within a niche market of 'insiders', according to Bridget Kennedy, of Studio 20/17 in NSW.
And recently galleries have opened outside of Europe that showcase jewellery – sometimes termed variously as small-scale sculpture or wearable art – which speaks to a small but growing audience.
In NSW and the ACT, three exhibitions and a workshop continues to explore the concept of contemporary jewellery as a wearable art form.