There's quite a lot of monkey business going on at the moment, with Richmond-based knitting group The Knitwits offering their skills and time to help raise money for local charity the Vineyard Community Centre by knitting lots of monkeys and other jungle creatures, and depositing them around Hill Rise.
Their chosen charity does valuable work in the local area, looking after people in crisis as well as managing the Richmond foodbank, so it's a very worthy cause and one that certainly deserves as much support as it can get.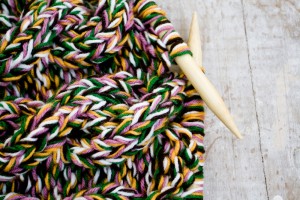 Guerrilla knitting – the typically anonymous act of placing handmade pieces in public spaces (also known as yarn bombing or yarn storming) – is growing in popularity, with all sorts of knitwear popping up in towns all over the UK, and indeed the world… so keep your eyes peeled as you make your way through life!
Pioneered by the amazing Magda Sayeg (who's yarn bombed stairs, buses and statues in her time), this form of street art is capturing people's imaginations everywhere and it's not hard to see why. Because wool is biodegradable it's great for people who want to take ownership of public spaces without getting in trouble or causing any damage, so watch out for yarn bombs on your way about town. Popular places include branches of trees and fences, although if you want to do it yourself check the wool content of your yarn as some types can actually damage the trees.
For further yarn bombing inspiration, check out the likes of Deadly Knitshade and Knit the City, who all very firmly believe in enhancing public spaces by adorning them with wool.
We may not have any guerrilla knitting artifacts in stock right now but you could have a look at some of our lovely tapestry cushion covers instead.