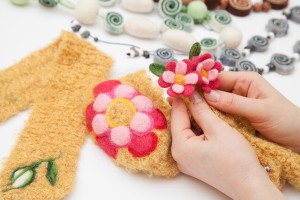 The arts and crafts community is a very inspired one and we're constantly marvelling at the things you all get up to time and time again, but we've been particularly wowed by artist Lucy Sparrow, who this month decided to set up her own corner shop, with everything made from felt!
Those of you out there with a keen interest in buying crafty pressies for people should think about hotfooting it off to east London so you can check out the shop (although you'll have to be quick about it as it's only open for a few more days, shutting up on August 31st).
What a brilliant idea, although we're sure it must have taken Lucy an absolute age to stitch together the 4,000 items that are currently on display. If you do make it to the store in time, you'll find that everything is for sale, although don't expect typical corner shop prices. A pint of milk will set you back the princely sum of £20!
Lucy's art installation hasn't just been about showing off her sewing skills and bringing craft and fine art together. There have also been community workshops put on to help people build up their social skills and also encourage them to think more about the demise of the once booming corner shop industry.
We can't think of a better way of bringing local communities together than getting them all sat down working on something arts and crafty, can you? We're very much looking forward to seeing what Lucy does next. We might not have felt products like hers in stock right now, but you're sure to get a kick out of our tapestry cushion covers, so have a little look before you go.