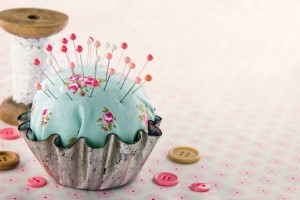 Did you watch the last series of The Great British Sewing Bee? Wasn't it brilliant? We're certain that it inspired so many of you to go out and buy tapestries, needles, thread and all other bits of sewing paraphernalia to get yourself started with some serious creativity.
If that sounds like a familiar story to you, then you'll definitely want to get your mitts on Sew Fabulous (coming out on August 28th), the first book from Sewing Bee star Stuart Hillard, which covers all sorts of different projects from bags, cushions and throws to window treatments.
Whatever you want to try your hand at, you're sure to find it in this worthy tome. "I love to sew for the home, where you can have a lot of impact quickly. And it's very straightforward, not like clothes," Stuard said, speaking to the Western Daily Press.
He's not the only Sewing Bee contender to have done well following the show either, with the brilliant Tilly Walnes – who put up a worthy fight in the first series – bringing out her first book this year as well.
Love at First Stitch is proving to be one of the most popular craft books of the year so far and if you're interested in making your own clothes, it's definitely the purchase for you. Tilly's definitely got a bit of a 50s kind of style about her so a lot of the patterns are along those lines, but there's something for everyone inside so make sure you bag a copy as soon as you can.