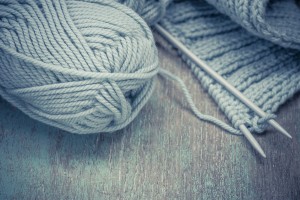 There's no better reason for delving into your knitting bag than to do your bit for charity (and certainly no better reason to learn to knit in the first place!), so if you want to give a little bit back this year and use your talents for the greater good, get involved with the innocent Big Knit.
The drinks company teams up with Age UK every year (and has done so for the last decade, in fact), to knit up lots of tiny little woolly hats (3,000 in total!) to help raise money for the charity.
Each hat that is made is stuck over the lid of an innocent smoothie bottle and for every one sold, 25p is donated to Age UK, with the cash then going to help older people stay health and warm during the winter and the rest of the year.
What a brilliant campaign! We've seen all the little hats on bottles in shops at around this time of year in the past and can't wait to get involved. (We're going through our yarn stash right now, as we type!) If you want to join us and use your wonderful knitting skills for a truly worthy cause, you've got until November 10th to finish your hats and get them sent in.
You can find patterns at The Big Knit website, or you could also start designing your own patterns for people to use and share them on Twitter or Facebook. For each hat pattern that is shared, 10p will be donated to Age UK.
What knitted products would you like to see in our shop? Let us know here, then take a look at our other soft craft products (like tapestry cushion covers) that we have for sale. You never know what you might find!