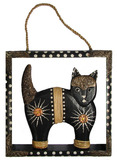 There's a real resurgence in the UK and beyond for the arts and crafts movement at the moment, with people keen to invest in beautifully made pieces for their home or as presents for friends and family that are one of a kind and more special than the mass-produced pieces you can buy on the high street.
After all, you don't want to fill your home with products that countless people around the country have in their living rooms, do you? When you buy wooden carvings or similar pieces, you know that not only are you doing your best to support independent designer-makers but you're also purchasing something truly unique that other people are unlikely to already own… so your home or that of your friends will remain completely original!
These carvings make a great addition to any home and are made by the most highly skilled artisanal crafters out there, so you know you're buying a quality product that will stand the test of time – unlike a lot of the pieces you can buy on the high street that might be cheaper but will break as soon as you get them home.
Whether you're on the lookout for something decorative or a piece that has a more practical application, you are sure to find it made out of wood. You could opt for a lovely wooden calendar that can be used time and time again or a beautiful bamboo bird house, for example. Or you might be more taken with an abstract figure to put on the mantelpiece. Whatever you're searching for, carvings look beautiful in any part of the home.
http://metro.co.uk/2013/02/21/take-interiors-au-naturel-with-the-rustic-revolution-3497418/